The World
United States Senator Gaylord Nelson created Earth Day in 1970 and it grew to the point where the United Nations adopted a consensus resolution designating April 22nd as the International Mother Earth Day. As an item on the international calendar, events are held worldwide to demonstrate and promote support for environmental protection.

Today more than half of the world's population lives in cities. As the urban population grows and effects of climate change worsen, our cities have to evolve.






It's time for us to invest in efficiency and renewable energy, rebuild our cities and towns, and begin to solve the climate crisis. Over the next two years, with a focus on Earth Day 2014, the Green Cities campaign will mobilize a global movement to accelerate this transition. If you care about taking care of the planet, join the call for a new era of green cities.
Around the City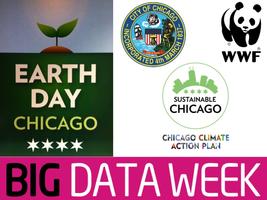 Although we are buried in white and gray snow for a good portion of a year, Chicago has been in the "green city" game for quite a while.
Were you one of the many who turned the lights off during last month's Earth Hour City Challenge? Well, kudos to you! Chicago beat out 60 other cities and was named the
2014 Earth Hour Capital of the United States
by the World Wildlife Fund. This was a year-long competition among cities to promote renewable energy and prepare for climate change. We will now go forward and compete over the next year for the title of Global Earth Hour Capital. Get the skinny on Rahm's plan at
Sustainable Chicago 2015
You're all invited to Party for the Planet at Brookfield Zoo! It will feature plantings, an eco expo, and a live music performance.
Can't add another thing to tomorrow's "to-do" list? You're in luck as the City of Chicago kicks off its celebration big time on Thursday, April 24th. Look for events in Grant/Millennium Park and Navy Pier.
Like to really get your hands dirty? Volunteer to help clean up your neighborhood this Saturday, April 26th from 9am - 12pm! Put yourself on a team at
Parks and Preserves
At Columbia
Columbia College Chicago is a finalist in the 2014 Second Nature Climate Leadership Awards, an annual competition among US colleges and universities that are signatories of the American College & University Presidents' Climate Commitment (ACUPCC).
Have fun and support the cause. For instance, you could win a bike in the
Bike 2 Campus
Campaign which hits streets tomorrow!
Or be on a College Green Team...I think
Academics
is right up your alley!
Review all of our great
Campus Initiatives
...be part of the solution.
Well, got to run...er, bike!